There are plenty of reasons to get a massage. It can lower the stress in your body. It can speed the healing of an injury. You are attentive to your self-care. The reasons for one person can change, depending on circumstances. "Our customer service makes a difference," says Nicole Chryst, CEO, and owner of Ballaura Wellness Spa. Her dedicated team wants to ensure that you and your needs are matched with the right massage provider. Ballaura spends time on communication as well as massage skills. "We provide customer experience training for everyone who works here," she adds.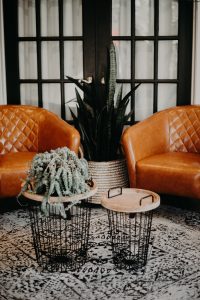 An excellent place to begin your spa experience is on the website's staff bio page. You'll see photos of the therapists, then you can read about each person's history, preferred style of practice, and their points of view. It is notable that staff receive massages as part of Ballaura's employment package. It's fun to read how they prepare for their massages with both the time ahead and afterward.  You aren't required to follow any of their suggestions, but there are many ways to enhance your massage experience beyond the hour you are on the table. You'll find recommendations below. The end of each biography addresses the level of pressure they use and a bit about their personality style to get the best fit for you.
After narrowing your choices, call the front desk to schedule your appointment. You can ask any remaining questions and check in with the receptionist about your choice. They may offer further information. It's all part of the continuing communications.
When you arrive for your session, you'll be shown to your room where you will have time to talk with your massage therapist about how you are feeling today and the purpose for the session. You are not required to have any reason, after all, any time is a good time for massage. However, if you do, you can cover these things ahead of time. "Really communicate your needs when you come in," suggests Nicole. It's all about you.
Your massage automatically includes hot towels, aromatherapy, a heated table, warmed oils, dry brushing, and transdermal magnesium. These are not mandatory, but comforting options. "We do not have up-charges for these enhancements," says Nicole. Your massage also includes all the advanced techniques your therapist performs, which will vary with each therapist. These include the following:
Cupping
Gua Sha
Lomi Lomi
Craniosacral
Intraoral
Myofascial release
Passive and active stretching
Lymphatic drainage
Deep tissue
Trigger point therapy
Pin and stretch
Relaxation with guided breathing techniques
You get to work with your provider to get what you need," assures Nicole. You'll be glad to know that their skin products are hypoallergenic, cruelty-free, and are locally and sustainably made in the Northwest. Additionally, they are USDA certified organic, vegan, and nut-free.
Then your actual time on the table begins. "We stress the importance of checking in with the client," says Nicole. You are reminded that feedback to your therapist is critical. Are you too hot? Too cold? Is the pressure too soft or too deep? "We have the ability to change these things," says Nicole. Remember, it's your body. No pain is required. After the massage, there is time to gently get up and dress.
To maximize your massage, here are a few suggestions:
Get plenty of sleep the day before and after your massage which helps your body get the most from your treatment
Drink plenty of water so you come hydrated and drink plenty afterward.
Be willing to communicate with your therapist, who is not a mind reader. When you are a returning client, your body might have seriously different issues than the last visit. Let the person know how you are doing.
Take a few moments to stretch before you hop off the table. It improves circulation and continues with the release of tension.
Massage is a marvelous self-care experience. Enjoy every moment.
Bring comfy clothes to wear home and consider gearing back for the rest of the day. A walk outside or a nap would be a lovely addition.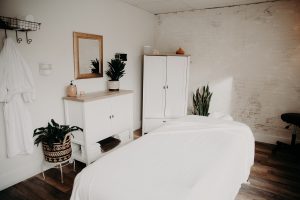 Ballaura is getting ready to schedule Massage for a Cause. On an otherwise closed day, the spa will have massage and infrared appointments where all the money will go to All Kids Win, a local nonprofit that helps feed children. The therapists will be donating their time. "Every business should have a heart," says Nicole adding, "Kids without enough food is near and dear to my heart."
Sign up for the newsletter and receive $20 off your first massage. When you become a member, there is a price break on your regular massages. Check out the website for upcoming Mother's Day gift card discounts.
Massage is a profound experience for healing, stress relief, and great pleasure. I'm speaking from years of experience. I have my next appointment, do you?
Ballaura Wellness Spa
1017 4th Avenue E Olympia
360.539.7726
Sponsored

Ballaura Wellness Spa Gladly Goes the Extra Mile for Optimal Client, Massage Therapist Match