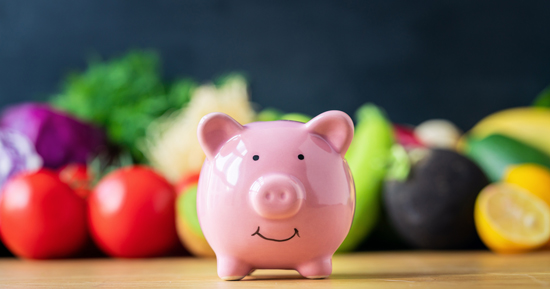 Everybody's got to eat. But if you're working, it's tough to find the time to shop and prepare inexpensive meals. Meal planning helps you create healthy meals that don't break your budget. 
Get meal planning tips and tricks from nutrition therapist Rebecca Beaudoin, RDN, LMNT. The key is to choose satisfying foods while limiting food waste. "Meal planning is essential to staying on budget," says Beaudoin. "If you're new to meal planning, a good start is to meal plan just one night a week." 
How to meal plan
Meal planning means deciding in advance what to make for the day or week. "Try meal planning around the ads of the store you're about to shop at," Beaudoin suggests. "Check out the ads online before you go to the store. Then create a meal plan – and shopping list – based on the best deals."
As part of that process, Beaudoin does what she calls an inventory walk. She checks what she has in her fridge, freezer and pantry before adding to her list. 
Meal planning also helps you avoid last-minute fast food or takeout, which can save you some serious cash. "If you have a plan, you avoid what I call crisis cooking. As a grocery store dietitian, I'd see the frantic looks of people shopping at 4:30 not knowing what to make," she recalls.
"Online ordering can also really help with your budget and planning."
Healthy meals on a budget
1. Plan for leftovers. If you make enough food at night for the next day's lunch, you only have to do cooking once for two meals.
2. Batch cooking is the next level. Cook twice the amount of food and freeze half in airtight containers. This technique works for most meals, except for cream-based products and leafy greens.
3. Get meat when it's discounted, then freeze it. Beaudoin suggests freezing it in the portion sizes you normally use. So if you're cooking for four, maybe you'll freeze servings of 2 pounds of ground beef. If you're cooking for one, try freezing ½ pound.
4. Some fruits are almost always low-cost, like bananas, oranges and apples. Fresh fruit makes easy, healthy snacks.
5. Canned veggies are a great budget option. "We want people to eat veggies no matter their budget," says Beaudoin. Just check for canned vegetables with no added salt, labeled "no salt added" or "low sodium." You can also rinse the sodium off before serving, Beaudoin advises. 
6. Onions and potatoes are cheap and last a long time. You can add them to many meals to add fiber and flavor.
7. Walk through the entire produce section to compare prices. Sometimes the more expensive fruits will be featured on displays in front, while the sale items are tucked away in the back.
8. Choose produce that's in season. Check this list to find out which fruits and vegetables are in season, depending on the month.
9. Frozen produce can be much cheaper than fresh, especially for out-of-season fruits and vegetables. "Frozen is just as healthy and lasts longer than fresh," says Beaudoin. Check the freezer aisle for berries, peaches, stir-fry veggies, broccoli, spinach and edamame. 
10. Order curbside pick-up or grocery delivery to save time. Use the time you saved on shopping to prep your food. "Ordering curbside pick-up helps me avoid temptations for both myself and my 6-year-old son," says Beaudoin. "It also forces me to plan ahead."
11. Buy pantry staples when they're on sale. This makes it easy to throw together a quick meal if you already have the basics at home. Some great pantry items to have on hand include:
Barley
Beans
Brown rice
Canned tomatoes
Chicken broth
Lentils
Oatmeal
Peanut butter
Whole wheat pastas
Whole wheat flour
12. Use a cashback credit card that gives you extra points for grocery shopping.
13. Try canned tuna and salmon instead of fresh fish. "Canned tuna or salmon can make excellent meals," says Beaudoin. "They're pretty inexpensive, shelf-stable and have excellent nutritional benefits." You can rinse the sodium off the tuna or salmon before serving or cooking.
14. Try grocery shopping once a week. "Usually, the fewer times you go to the store, the fewer impulse buys you'll make," says Beaudoin. Bonus points if you choose your day based on sales and deals.
15. When you're out of ideas and have to make dinner in a pinch, purchase prepared foods from the grocery like salads, take-home pizza or soup. While meal planning is usually the most inexpensive, healthiest option, prepared grocery foods can be better than takeout or fast food.
Get help from a nutrition therapist
Get health advice tailored to your medical conditions from an experienced nutrition therapist. Call 800.922.0000 to schedule an appointment.
Sample meal plan
Medical student Eileen Moran suggests three cost-effective, nutritious and delicious meals, along with some snack ideas.
Fruity oatmeal breakfast
You'll feel full longer with this oatmeal breakfast rather than cereal or white bread toast.
Oatmeal
Peanut butter
Banana
Cinnamon
Hearty chili for lunch
You could do a 50/50 split with ground beef and beans, or you could make a vegetarian chili with all beans.
Ground beef
Red kidney beans, canned
Diced flavored tomatoes, canned
Corn, canned
Chili powder, cumin, coriander and other spices
Shredded cheese, for topping
Chicken and rice casserole for dinner
Tip: Use chicken thighs or frozen chicken breast to save money on your protein.
Shredded chicken, cooked
Brown rice, cooked
Broccoli heads
Cream of chicken soup
Frozen peas
Paprika, onion powder, garlic powder, black pepper and other spices
Healthy, simple snacks
Hummus and hard-boiled eggs are excellent sources of protein. You can make your own hummus if you'd like – it takes a bit more time, but is tasty and inexpensive.
Smoothies
Carrots and cucumbers with hummus
Hard-boiled eggs
Fruit
https://www.nebraskamed.com/primary-care/healthy-meal-planning-on-a-budget-15-tips-from-a-nutrition-therapist